Conference details: 29-31 October 2018; Barcelona, Spain
Report by: Alzheimer Europe
Conflict of interest statement: None declared
Published online: 2/11/18
---
Day 1
The 28th Alzheimer Europe Conference (#28AEC) "Making dementia a European priority" was formally opened on the evening of 29 October 2018, under the Honorary Patronage of Her Majesty Queen Sofía of Spain. More than 800 participants from 46 countries attended the conference, which involved 239 speakers and 175 poster presenters, sharing their research, projects and experiences.
Iva Holmerová, Chairperson of Alzheimer Europe (AE) opened the conference, thanking HRH Queen Sofia for her Patronage and extending a special welcome to the 35 people with dementia attending the conference, as well as their supporters. Ms Holmerová has been involved in the dementia movement for many years, during which, she said, her "purely" professional view on dementia has changed, due to meetings with people with dementia and caregivers and to her close personal insights into dementia, with her mother and her mother's partner. She now believes that we should broaden our focus, which has been mainly on diagnosis, pharmacotherapy, interventions and management. The individual needs and preferences of people with dementia and their families should be considered and respected, she emphasised; and these needs and preferences translated into clinical and practical thinking and acting.
Following Ms Holmerová, Cheles Cantabrana, Chairperson of the Confederación Española de Alzheimer (CEAFA), Noemí Martínez, Vice-Chairperson of Fundación Alzheimer España (FAE), Gemma Tarafa, Commissioner for Health (Spain) and Santiago Marimón Suñol, a person living with dementia from Spain also welcomed delegates.
Ms Martínez (FAE) highlighted some positive changes in recent years, for people with dementia and their carers, with a huge increase in the information, training and scientific knowledge available to them. There is more participation from everyone concerned (institutions, self-help movements, and pharma and tech companies, among others), she said. Nevertheless, there are too many differences across Europe with regards the length of time from diagnosis to end-of-life. In the immediate future, FAE will be focusing on improving early diagnosis rates, as well as helping patients and carers access new technologies and training, helping forge better links between professionals and families and putting more pressure on the relevant authorities to help implement everyday solutions.
Collaborating to overcome the challenges presented by dementia prevention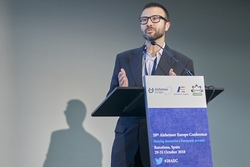 In his keynote presentation "Will we be able to prevent Alzheimer's disease?" Dr Jose Luis Molinuevo from BarcelonaBeta Brain Research Center gave an overview of the challenges and opportunities regarding the prevention of Alzheimer's disease (AD). He expressed the rationale behind preventing AD and the reason why prevention may be a key way forward to tackle it. However, he stressed, this is far from easy and there are many challenges along the way.
"Although the advent of biomarkers does allow us to identify AD in vivo through biomarkers that are proxies of pathology, and improved trials design is allowing us to test new pathways in a more efficient way, defeating AD is still a challenge that will require all of us working together to find a solution" he commented.
Day 2
The second day of the 28th Alzheimer Europe Conference (#28AEC), on 30 October 2018, focused on dementia as a policy priority and the importance of a human rights-based approach to dementia and disability.
Dementia as a policy priority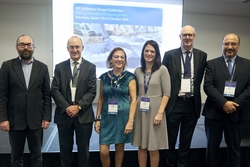 The first plenary session on "Dementia as a policy priority" was chaired by Jesus Rodrigo (Spain) and opened with the first of four "Meet the researchers of tomorrow" sessions. Anja Leist, Associate Professor at the University of Luxembourg, presented the World Young Leaders in Dementia (WYLD) network, which brings together young professionals in the field of dementia, supporting the work of the World Dementia Council. The WYLD consists of over 250 members from 30 countries around the world and ages range from 22-40. Its priorities are to facilitate professional careers in dementia by offering training and mentoring, to facilitate the uptake of new technologies to improve quality of life of persons with dementia and their families and to increase awareness and fight stigma around dementia.
Carmen Orte, Director General of IMSERSO (Instituto de Mayores y Servicios Sociales) presented "Dementia as a health and social priority in Spain". Ms Orte highlighted the importance of putting our focus where it is most needed, where dementia and specifically Alzheimer's disease is concerned: on reducing its impact; on improving quality-of-life for people with dementia and their family caregivers; and on ensuring they can fully exercise their rights; on ensuring people with dementia can continue to live in their chosen environment for as long as possible; promoting maximum autonomy and participation by means of involving wider society in our response to the challenge posed by dementia. She also stressed the need to put a stop to exclusion and stigmatising behaviour towards people with dementia. Awareness and consciousness-raising, integrated sociosanitary attention, valuing caregivers more highly and more research, innovation and knowledge-sharing will help achieve these goals.
Geoff Huggins, Director of Health and Social Care Integration at the Scottish Government delivered a presentation on the EU Joint Action (JA) 'Act on Dementia', which began in March 2016. It aims to promote collaborative actions among Member States to improve the lives of people with dementia and their carers. The first phase of work – to conduct evidence reviews and reports on diagnosis and post diagnostic support, crisis and care coordination, quality of residential care, and dementia friendly communities – is completed and practical testing is now taking place with frontline services, to gather evidence in order to learn about the implementation challenges in pilot sites across Europe, including Bulgaria, France, Greece, Italy, the Netherlands, Norway, Poland, Romania and the United Kingdom. Examples of testing include tackling stigma around dementia diagnosis by bridging the gap between primary care practitioners and hospital specialists; testing a case management approach to post-diagnostic support in primary care innovation sites; testing the implementation of training programmes to support staff in identifying and managing the symptoms of stress and distress; trialling an e-learning programme in dementia palliative care for healthcare staff working in nursing homes in Norway; and testing different approaches to building 'dementia-friendly' communities. The JA plans to hold its final conference in The Hague in October 2019, coinciding with next year's Alzheimer Europe (AE) conference, where it plans to share the learning about challenges and opportunities in implementing best practices throughout Europe.
Dr Dan Chisholm, Programme Manager for Mental Health at the World Health Organisation (WHO) Regional Office for Europe (Copenhagen, Denmark) spoke next, about prioritising dementia internationally and specifically about the WHO's Global Action Plan on the public response to dementia 2017-2025, adopted by 194 Member States in 2017 at the World Health Assembly.
Prof. John Gallacher, Project Co-ordinator of the IMI ROADMAP project (Real world Outcomes across the Alzheimer's Disease spectrum for better care: Multi-modal data Access Platform), closed this first plenary session. He shared the work done by the project so far: The ROADMAP project has demonstrated the ability of academic, industry, patients and regulatory partners to work together on a highly complex, widely distributed, and tightly time-constrained project; established a broad-based and evidence based consensus on the priority outcomes for dementia treatment pathways; developed a comprehensive database of available European real world data; demonstrated that the current evidence base is inadequate for disease progression modelling and detailed health economic evaluation; and has made a strong case for the collection of new data that is intentionally designed to enable early detection and disease progression modelling.
Dementia as a human rights priority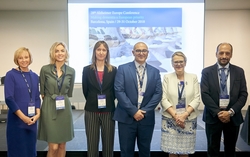 The second plenary session focused on "Dementia as a human rights priority". The session opened with the second "Meet the researchers of tomorrow" session, delivered by Stina Saunders, a fellow at the IMI EPAD project (European Prevention of Alzheimer's Dementia) and a doctoral candidate at the University of Edinburgh. Her talk focused on engaging research participants as collaborators working towards a common goal with the study team. The EPAD study has set up the EPAD Participant Panel in order to learn from the experience of research participants, provide participants an on-going active voice in the project and incorporate participants' input.
Helen Rochford-Brennan, Chairperson of the European Working Group of People with Dementia (EWGPWD), talked about promoting a human rights-based approach to dementia through the active involvement of people with dementia. "Many people living with dementia are denied their human rights from the time of diagnosis. As they live with the disease they navigate systems and structures which are not person centred and rights based. As a result, either deliberately or by omission their human rights are denied", said Ms Rochford-Brennan. Human rights violations include the lack of statutory rights to homecare the inappropriate prescribing of Psychotropic medicines and the inability of persons living with dementia to be active participants in their community. People living with dementia must be actively involved in all aspects of the disease. From research to healthcare, legislation to awareness, the lived experience must be valued and have the power to influence. Good practice for involving people with dementia includes appropriate supports, a non tokenistic approach and a value placed on experts by experience. The members of the EWGPWD, are strong advocates of PPI (patient and public involvement) and believe co-creation and robust collaboration are the only way to ensure that the human rights of persons living with dementia are a research priority. "Human rights can be a theoretical, abstract concept that for some people living with dementia seems far removed from their daily reality. Quality engagement with just such people will lead to the human rights of many more people living with dementia being met", she concluded.
Dr Fernando Vicente, advisor to the General Directorate of the Institute of Older People and Social Services (IMSERSO) of the Ministry of Health, Social Services and Equality, spoke about Human Rights in Spanish health and social legislation: In the discussion about ageing, there has been a heated debate at national and international level about whether the existence of specific legal instruments on the rights of older persons and their protection is necessary. Reasons for not having such instruments include the fact that people have rights because they are human beings regardless of age, gender, language, sexual orientation, capacity, abilities, etc., and instruments and specific norms for the protection of the older people already exist (e.g. International Human Rights Conventions of the UN, Charter of Fundamental Rights of the EU of 2010, Constitution of 1978, Civil Code, Penal Code). Nevertheless, the existence of sectoral legal norms at international, national and regional level (in the case of Spain) aimed at the protection of groups that are particularly vulnerable, is a reality of the political action that is appropriate to the challenges posed by the ageing of the population. This constitutes a great challenge of governance in Spain and hinders the adoption of measures to mobilise action, he concluded.
Dr Dianne Gove, Director for Projects at Alzheimer Europe, gave delegates an overview of the organisation's work on dementia and disability. In 2017, Alzheimer Europe set up a working group of experts on dementia, disability, ethics, mental health legislation, anthropology, policy and psychology, which worked closely with members of the European Working Group of People with Dementia (EWGPWD). Together, they explored possible implications for ethics, policy and practice of recognising dementia as a disability. Thinking about how people with dementia might experience and feel about disability, it is important to emphasise that disability, like dementia, is not a person's sole identity. People have multiple, intersecting and overlapping identities. Dianne stated that whilst overall, there may be ethical, practice and policy benefits of viewing dementia as a disability, none of these potential benefits should require a particular person with dementia to identify with disability against his/her wishes, and emphasised the need to recognise and respect difference and individual choice.
Dr Karen Watchman, Senior Lecturer in the Faculty of Health Sciences and Sport at the University of Stirling, closed the second plenary session with her talk on dementia and intellectual disability. Dr Watchman told delegates that, whilst countries across Europe are at different stages in their support of people with an intellectual disability, longer life expectancy of people with Down syndrome means a rise in the incidence of early onset dementia, with at least 1 in 3 people with Down syndrome being diagnosed in their 50s or 60s. Older families are facing the multiple jeopardy of caring for their relative with an intellectual disability who is ageing, and has a diagnosis of dementia. This is often at a time when they are facing their own ill health, she pointed out. Increased knowledge and awareness among support staff in health and social care sectors/NGOs can lead to greater understanding of the impact of individualised non-drug supports for people with an intellectual disability and dementia, including the potential for a reduction in medication. Improvement is also needed in the area of diagnosis and post-diagnostic support, for residents with intellectual disability who are diagnosed with dementia. A longer-term approach is needed to support this ageing population, which takes into account the perspective of the person with intellectual disabilities. "By valuing the perspectives of people with an intellectual disability and dementia, we reinforce the importance of ensuring that best-practice for people with dementia also applies to people with an intellectual disability. This includes a timely diagnosis which is shared appropriately, individualised post-diagnostic support, and the need to meaningfully include the perspective of persons with intellectual disability in decisions that affect them", Dr Watchman concluded.
Day 3: focus on care and research in the dementia field
Dementia as a care priority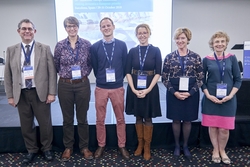 The third plenary session "Dementia as a care priority" was chaired by Myrra Vernooij-Dassen (Netherlands) and opened with the third "Meet the researchers of tomorrow" session, with Sébastien Libert, a PhD student based at University College London, and part of the Interdisciplinary Network on Dementia Using Current Technologies (INDUCT). He argued that, with the increasing promotion of an active and productive later life in western societies, there is a growing discomfort and anxiety among parts of the ageing population, around thinking about decline and dementia. This cultural anxiety also influences the development of assistive technologies promoting self-management and activity in dementia, which results in the potential cognitive decline associated with the progression of dementia not being primarily addressed in the design of many of these technologies. It is therefore important to consider how the progression of dementia affects people's experiences with such technologies, often developed to help with early to moderate dementia, he concluded.
Gail Mountain, Professor of Applied Dementia Research and Director of the Centre for Applied Dementia Research at the University of Bradford used her presentation to urge delegates to work together to reconsider the appropriateness of commonly-used outcome measures in dementia practice and research. The issues she stated as needing to be addressed are: Traditional forms of outcome assessment can be based in a deficit model rather than one which promotes living well with dementia – what can no longer be achieved rather than what can; The constructs being measured can contribute towards the deficit model – what about ability to self-manage and retain resilience rather than ADL?; The majority of traditional forms of assessment require recall; a challenge for those with cognitive deficit. Prof. Mountain suggested a radical rethink regarding what should be asked and how, including the role of new technology in creating solutions to this problem.
Marjolein de Vugt, professor of psychosocial innovations in dementia at the Mental Health and Neurosciences research school, Maastricht University presented the 'Partner in Balance' programme. She noted that existing e-health interventions for caregivers of people with dementia are mainly aimed at dealing with dementia-related problems, but may not fit the needs of informal caregivers of persons at an early stage of the disease process. The programme she presented aims to respond to this unmet need. It is a blended care intervention, developed specifically with and for informal caregivers of people with dementia in the early stages and she was pleased to announce that a randomised, controlled trial has already had positive results in the areas of self-efficacy, experienced control and quality-of-life.
Manuel Martín-Carrasco, Medical Director of the Father Menni Psychiatric Clinic of Pamplona, spoke to delegates about reducing the use of antipsychotics in residential and nursing homes. The fact that many people with dementia are living in long-term care facilities, leads to a high rate of psychiatric symptoms and behavioural problems, said Dr Martín-Carrasco. A high rate of psychopharmacological treatments, in particular antipsychotics and benzodiazepines are used, as a result and these drugs are associated with an array of deleterious effects, including an increase in mortality. Various methods have been tried, to reduce the use of antipsychotics in nursing homes, the most successful of which, overall, seems to be the implementation of sustained training programmes, leading to a change in the culture in the facilities themselves.
Martina Roes, Chair of Nursing Science and Health Care Research at the Department for Nursing Science / Faculty for Health, University of Witten/Herdecke closed this plenary session with a presentation on "fostering and sustaining relationships with people with dementia". She emphasised that maintaining existing relationships and making and sustaining new connections are of paramount importance in ensuring quality-of-life for people with dementia, and this, according to people living with the condition themselves. This is why relationships are such a fundamental component in person-centred care and why person-centredness is so important.
Dementia as a research priority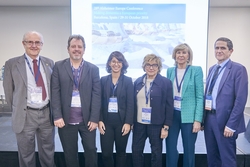 The last plenary session focused on "Dementia as a research priority" and was chaired by José Manuel Ribera Casado (Spain). It began with the "Meet the researchers of tomorrow" session, presented by Isadora Lopes Alves, who is doing her postdoctoral research for the IMI AMYPAD project (Amyloid Imaging to Prevent Alzheimer's Disease) at the VUmc, Amsterdam. The AMYPAD Consortium involves 9 centres across Europe and aims to examine the value of amyloid PET imaging in two clinical studies recruiting up to 2,900 individuals. Expanding findings from other studies on clinical utility of amyloid PET imaging (ABIDE and IDEAS), the AMYPAD Diagnostic Study is looking to understand for whom and when this technique is valuable, and whether its optimal use is cost-effective in clinical routine. In combination with EPAD, the AMYPAD Prognostic Study is using amyloid PET imaging to improve the determination of an individual's risk of developing dementia, and will provide crucial technical insights into how current and future secondary prevention trials can improve participant selection and measurement of treatment effect using amyloid PET.
Next, Maria Isabel Gonzalez Ingelmo, Managing Director of the National Reference Centre for Alzheimer's and Dementia Care of the Institute for Older Persons and Social Services (IMSERSO), under the auspices of the Spanish Government, informed delegates that her organisation is committed to promoting research into non-pharmacological therapies, through networking and transferring knowledge. She spoke about the importance of social and health care research in the field of Alzheimer's disease (AD) and other dementias. This area of research pursues the development of evidence-based interventions that are able to improve the quality-of-life of people with dementia and their families. Ms Gonzalez Ingelmo emphasised that clinical research and social and health care research are equally important and must work hand in hand, to achieve the best results for everyone concerned.
Mercè Boada, Founder and medical director of Fundació ACE, used her session to stress the important role EU research collaborations can play in helping to improve the diagnosis of AD. Identifying ways to improve early diagnosis of AD and changing the current perception that dementia is part of the normal ageing process are on the global agenda. European cooperation in projects like MOPEAD or ADAPTED are a great opportunity to establish strategies focused on increasing knowledge and awareness. "Health policymakers, stakeholders, national Alzheimer associations and academic institutions should collaborate to improve our healthcare systems, by training primary care practitioners and other healthcare professionals cross Europe working in the field of neurodegenerative diseases. It is crucial to find biomarkers that are assumable for our healthcare systems as well as less invasive for people affected", concluded Dr Boada.
Next was Philippe Amouyel, Professor of Epidemiology and Public Health at the University Hospital of Lille, with a presentation on the genetics of Alzheimer's disease (AD): Alzheimer's disease (AD) occurrence, as with many chronic diseases, results from the interaction between environmental factors and an individual susceptibility. In less than 1% of AD cases, mostly early onset forms, genomics has been able to identify several causing genes, and set the basis of the amyloid cascade model. In the sporadic forms of AD, the most common, genomics research, based on an agnostic screening of the genome, has allowed scientists to identify new pathophysiological pathways, improving understanding of the molecular processes involved in AD. Over the past 10 years, the exponential progress made in the deciphering of the genome have meant that more than 30 regions of the genome, associated with an increased or decreased risk of AD in these late-onset forms, have been identified. Still, Prof. Amouyel pointed out that almost half of the heritability of AD remains to be identified. Genetics, he concluded, will play a pivotal role in general prevention, identification of disruptive treatments and care. Due to its predictive role, genetics has a major influence on prevention, pre-symptomatic and early diagnoses of dementia. This deserves careful discussion, particularly linked to ethical considerations.
The final speaker at plenary 4 was Professor Clive Ballard, who is part of a growing team of dementia researchers at the University of Exeter Medical School. His presentation looked at pharmacological options for the treatment of behavioural symptoms of dementia and specifically at the recent international Delphi consensus paper. The paper brings together leaders in the field to update guidance based on latest evidence. It advises that drug treatments should only be used as a last resort for the treatment of agitation, and highlights the need for more work focusing on specific non-pharmacological interventions for psychosis most universally experienced by people with dementia. Non-drug approaches include identifying underlying causes, training caregivers, making environmental adaptations, implementing person-centred care, and devising a programme of tailored activities. There is an emergence of promising research, focusing on new pharmacological treatments, including analgesics, citalopram, pimavanserin and dextromethorphan; and we are likely to see a significant advance in the treatment of Behavioural and Psychological Symptoms in people with Dementia over the next 5 years. Prof. Ballard summarised the study's results, saying: "We know that antipsychotics and sleeping tablets can all be highly damaging to people with dementia. The headline here is that sedating elderly, frail people with dementia is likely to cause them harm and should be avoided if at all possible. Our paper brings together the latest evidence in this field and advises professionals to try non-drug approaches where possible and highlights emerging pharmacological therapies which may provide safer and more effective approaches to treatment in the future."
Showcasing European projects
Various research projects were also highlighted and presented in the course of the two-day conference. Alzheimer Europe is a proud partner in several pan-European research collaborations and ensures the views of people with dementia and carers are taken into account in the research, as well as contributing to discussions on ethical issues raised by the research. Alzheimer Europe is also heavily involved in the dissemination and communication activities of these projects. The two projects that featured most prominently at #28AEC were MOPEAD and ROADMAP:

MOPEAD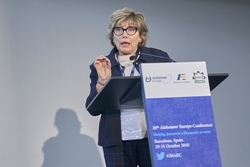 During a special symposium and plenary talk, MOPEAD introduced its plans and methods in learning how to enhance earlier identification of mild AD dementia and prodromal AD. The plenary, held by Dr Mercè Boada, focused on the power of public-private partnerships in tackling improved diagnosis of Alzheimer's disease (AD). MOPEAD aims to ultimately establish an enhanced portal for bringing volunteers into clinical trials, to speed up research and development. The symposium revolved around a call to action for citizens' engagement in early patient engagement for AD. At the same time, it focused on the manifold learnings the project has already established. As well as exploring ways to engage with potential trial participants, the symposium also looked at barriers, such as the reluctance of General Practitioners (GPs) to take part.

ROADMAP

This project has probably been the most detailed and comprehensive evaluation of real-world evidence in Alzheimer's disease (AD) that has ever been conducted.
The "Real-world evidence in Alzheimer's disease" sessions, included a plenary talk by Prof. John Gallacher, at which he discussed initial findings on the accessibility of real world data, its utility for disease modelling and policy formation.
This was followed by four parallel sessions. The first session took a look at relevant outcomes from the perspective of different stakeholders, as AD and dementia progress. The Ethical, Legal and Social Implications (ELSI) team provided insights into the ethical challenges in AD research and practice, when using real-world data. Another focal point was explored in the third session: perspectives on real-world data in AD from regulatory and Health Technology Assessment (HTA) bodies, including the prospective future data collection and further research in this area. During the concluding fourth presentation, delegates were amongst the first to see the project's 3D Data Cube, which offers a 'landscape' of data availability for AD research in Europe.